Size Chart
Men's Tops
| | | | | | | | | |
| --- | --- | --- | --- | --- | --- | --- | --- | --- |
| Size | S | M | L | XL | 2XL | 3XL | 4XL | 5XL |
| Neck | 14 1/2 | 15 1/2 | 16 1/2 | 17 1/2 | 18 1/2 | 19 1/2 | 20 1/2 | 21 1/2 |
| Sleeve Length | 32 1/4 | 33 1/2 | 34 1/4 | 35 | 35 3/4 | 36 1/2 | 37 | 37 1/2 |
| Chest | 34-37 | 38-41 | 42-45 | 46-49 | 50-53 | 54-57 | 58-60 | 61-63 |
| | | | | | | | | |
| --- | --- | --- | --- | --- | --- | --- | --- | --- |
| Size | S | M | L | XL | 2XL | 3XL | 4XL | 5XL |
| Neck | 37 cm | 39 cm | 42 cm | 44 cm | 47 cm | 50 cm | 52 cm | 55 cm |
| Sleeve Length | 82 cm | 85 cm | 87 cm | 89 cm | 91 cm | 93 cm | 94 cm | 95 cm |
| Chest | 87-94 cm | 91-104 cm | 107-114 cm | 117-124 1/2 cm | 127-135 cm | 137-145 cm | 147-152 cm | 155-160 cm |
How to Measure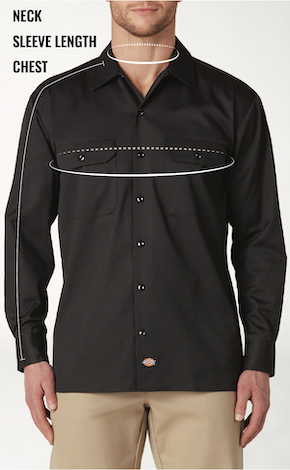 Neck

Measurement is the circumference of the neck as illustrated.

Sleeve Length

Measured by placing one end of the tape at bottom of the collar at the center of the back and marking the distance around the elbow to bottom of the wrist. It is often helpful to have the arm slightly bent.

Chest

Taken at the fullest point of the chest, keeping tape under arms and around shoulder blades. Hold tape level and firmly but not tight.