Triple Point: A Skier's Paradise
A Dickies Maker Story
Meet Tucker Patton, Founder of Triple Point
We've all seen the incredible footage of skiers being dropped from a helicopter onto the top of a mountain full of untouched, perfect powder and skiing down in pure bliss, but few of us have wondered "could I make a living doing that?". But there is one man who asked that question years ago and has made it his life's mission to provide this unparalleled heli-skiing experience as a living. Meet Tucker Patton. Tucker is the founder and owner of Triple Point, Alaska's premier heli-ski operation based in Palmer, Alaska.
"I guess my title is President and Founder, but I do it all, from lead guide to operations to shuttle driver to dishwasher. Our season runs 2-3 months in Alaska and the rest of the year I'm always working on the business from sales and marketing to photography, contracts and operations. The list is endless and seems to be getting longer as we grow. But that's what keeps it fun and interesting."
What began as a crazy idea got serious after he graduated college in Los Angeles and moved to Lake Tahoe to pursue his dream of launching an adventure travel/heli-ski company.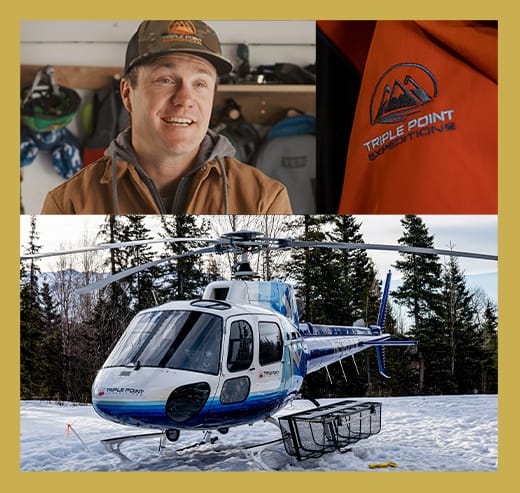 "I showed up in Tahoe straight out of college and discovered a different lifestyle and career paths that I hadn't seen growing up. I had a lot of encouragement and support from friends and mentors who pushed me to pursue my dreams. I realized it might be possible so I put my head down and focused entirely on guiding and getting experience so that someday I could start a business."
And building Triple Point has been his life's work ever since. Tucker is never one to back down from a challenge, as he's always learning, growing and going. He holds numerous professional certifications including avalanche, firefighter, hazmat, high angle rescue and medical credentials.
"People are always intrigued with how I made a career out of what I am doing. In addition to that, they see the glamorous side of it like flying in helicopters or getting paid to ski for a living. What they don't see is the years of experience, hard work, sacrifice and dedication to the craft. This translates to every job I do heli-skiing, fire department, fly-fishing, etc. I have dedicated everything to what I am doing now. I have had one professional goal since I was 18 and that is to be doing what I am doing now. It's been a constant progression and learning experience as I've adapted and overcome the different challenges that I've faced throughout the years."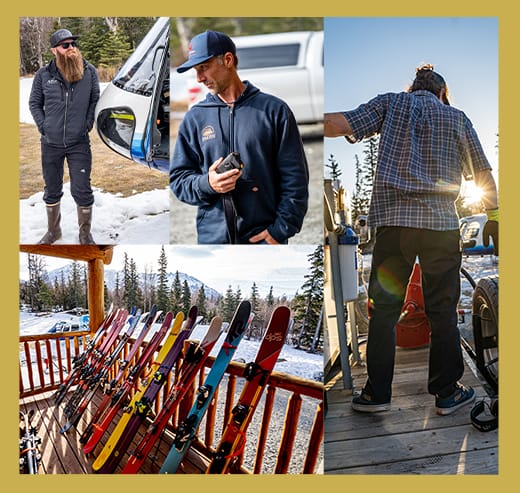 Seeing his business thrive has been fulfilling for him, but Tucker is even more passionate about his family. He loves spending time with his wife and two young sons. He loves seeing the world through their eyes and helping them to harness their creativity, intelligence, and athleticism. These things motivate him every day to be a better person, dad, and husband.
"Every day I am inspired to do better for my family. I genuinely love what I do. I am inspired by the challenges that I face on a daily basis. I am inspired to figure out solutions on how to fix them or work with them and move forward to do my job better. I am inspired by serving people. I love helping and working with people. It's a privilege to do what I do."
Tucker takes community service seriously and shows that through his work at the fire department where he is always looking for additional ways to help others. Through this and other acts of service, Tucker continues to learn more skills which in turn provide more training to his community through his growing areas of expertise. And one area that Tucker has great expertise in is investing in gear that lasts.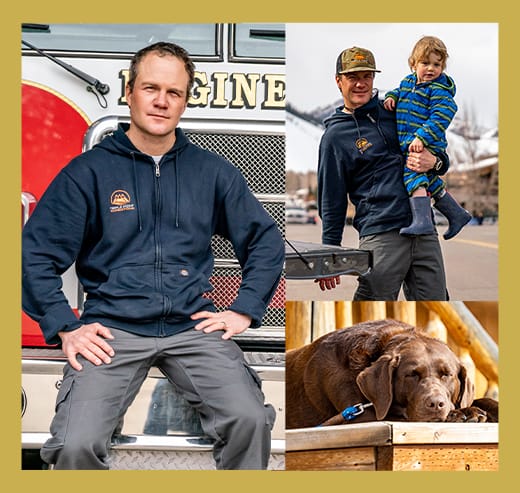 "Dickies gear is great. It's hardworking and gets the job done. I know it's going to stand up to the task that I have whether it's lodge-based jobs or out working on the helicopter or fuel systems or at the fire department. Another aspect is its versatility. I do many jobs throughout the day from working in the lodge, to going on calls, to greeting guests and Dickies gear works for all situations."
And when Tucker says all situations, he really means all situations. He spends his days skiing, hunting, fly-fishing, mountain biking, surfing, kite-surfing and shooting photos, to name a few. And he and Triple Point have no intention of slowing down any time soon, even though he faces the daily challenge of trying to juggle all of his commitments in life.
"The hardest part is balancing it all with work, travel, life and family. I feel a strong commitment to all of them and do my best to squeeze 25 hours into a day. To be honest I haven't totally figured this one out other than put my head down and run through the wall in front of me. I genuinely love what I do and am inspired by the challenges that I face on a daily basis. I am inspired to figure out solutions on how to fix them or work with them and move forward to do my job better."