Bullseye Glass Co.: The Artistic, Educational, and Therapeutic Qualities of Glass Making
A Dickies Maker Story
Meet Dan, Founder of Bullseye Glass Company
The Portland-based Bullseye Glass Company is a small company with a worldwide influence. The hand-crafted glass manufacturer focuses on colored glass for art and architecture with a strong commitment to research, education and promoting glass art.
"The craft of glass fusing, or kiln-forming is unique from the standpoint that it really puts the making back into the hands of the artist and the craftsman."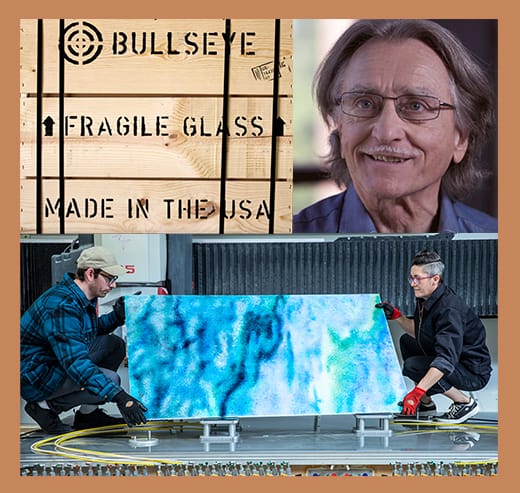 During the 1960s, while his peers were heading to Woodstock, Dan set off for Portland, Oregon with his dog Jake in a little red corvette to start a glass company. In the beginning, Dan utilized a glass blowing technique but wanted to move into larger compositions that didn't rely on a blow pipe. This led Bullseye to adopt the craft of glass fusing, also known as kiln-forming.
"The uses and applications of kiln-form glass reach from science, to art, to architecture."
Bullseye is responsible for developing many of the fundamental materials and methods at the core of contemporary kiln-glass. They are widely known as the first company in the world to formulate and manufacture glasses that are factory-tested for fusing compatibility. Bullseye is also recognized for key contributions to the kiln-forming, kiln-casting, flameworking and coldworking methods used to create glass art.
"What I really get of this job is watching young people come into this medium and grow. Not only in how they work with the glass, but in their confidence and their ability to take on challenges and solve problems."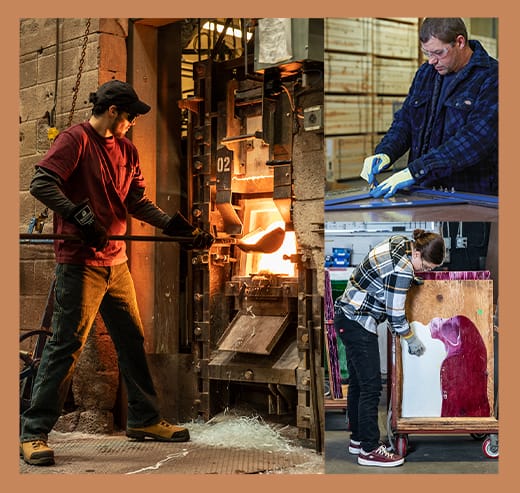 Dan is committed to promoting passion when it comes to glass fusing, not only in Bullseye artists, but in a global community of interested glass art makers through Bullseye resources available to the public.
"The way glass challenges you and calls you on anything you do wrong, you can't cheat when you're working with glass…it will break, it will do exactly what you don't want it to do, unless you really consciously take the time to understand the glass."
With this, Dan aims to instill the knowledge of working with glass to the artists so that they can exploit how to utilize techniques in their own artwork.
Glass art, education, and the therapeutic qualities that come from its creation, are a cornerstone to the community impact that Bullseye sets out to achieve through the trainings and classes they offer.
"We work very closely with schools across the world…we have a program where we teach five- to eleven-year-olds. They're completely not afraid of anything."
Bullseye offers classes that teach simple methods, like glass cutting, to two-week intensive workshops. Bullseye's community collaboration extends to veterans who suffer from PTSD as well, an outreach partnership that Dan explains as being very important to the core values of Bullseye.
"Glass pulls veterans out of their trauma and brings out the real person."
The arch of responsibility and the enduring passion that Bullseye employees reaches into their dedication to environmental accountability. This involves progressive planning in the areas of design, waste reduction and energy conservation. The Bullseye Factory has been designed to meet the highest standards for employee safety and environmental accountability. All of Bullseye's glass is made in Portland, Oregon, under the most stringent environmental regulations of any other U.S. glass company. And to think, it all started with Dan, his dog Jake and a little red corvette.