FROM RENOVATING HOMES TO HOSTING HGTV SHOWS
MEET BRYAN FROM BAEUMLER QUALITY CONSTRUCTION INC AND HGTV.
Where He Started
"I grew up with a blue collar dad you know, he had a sheet metal business at the airport so my earliest memories are playing in piles of tools in his workroom in the basement."
Learning valuable tricks of the trade from his father, a meticulous aircraft engineer, Bryan spent his childhood summers building his family's cottage from the ground up. His entrepreneurial spirit emerged at the age of 14 when he opened his own handyman business doing odd jobs for neighbours.
"I remember when…starting out with a 14 foot aluminum boat, the 9.9, we would putt from island to island, picking up garbage, moving lumber…just cleaning up for contractors and framing crews. Eventually they'd let us carry lumber, then they'd let us measure a little, we even got to pound some nails in, so that's kind of where our roots came from."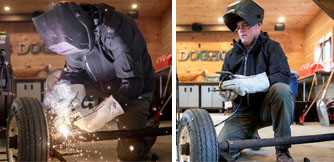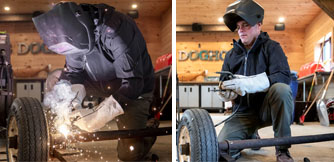 What He Does
Bryan doesn't believe he's put in an honest day's work unless he gets his hands dirty! A natural-born teacher, the Gemini-award winning host has been educating and entertaining viewers across Canada and the US for over seven years on the hit shows House of Bryan, Disaster DIY, and Leave it to Bryan.
On House of Bryan, fans watched in record-numbers as Bryan built a custom 3,500 square foot home for his family. On Disaster DIY, Bryan waged war on building shortcuts and taught well-intentioned DIY-ers how to bring their renovations back on track with a little tough love and a lot of humour. In his latest show, Leave it to Bryan, the veteran contractor helps reno-hungry homeowners prioritize the room they need, over the renovation they want.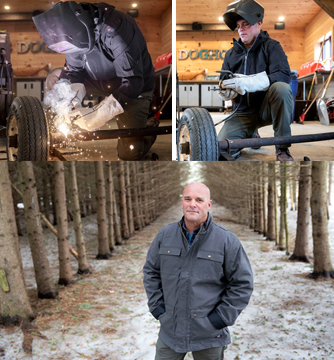 Why He Does It
After earning a dual degree in Political Science and Business, Bryan was headed towards a career of practicing law. Realizing he'd rather be renovating than be chained to a desk, his innate passion for building took over and he traded in his tie for a tool belt and founded his contracting company Baeumler Quality Construction. Bryan has now built the 'Baeumler Brand' to include Baeumler Construction, Baeumler Approved, Baeumler Productions, Baeumler Media, and the newly launched Baeumler Family Foundation for Kids. Each and every one of his companies prides itself on professionalism, respect, and quality workmanship. A few years and several hit TV seasons later, Bryan's tackling even more projects than ever - and loving every moment of it!
"After high school, you know I was asked by my guidance counselor "what do you wanna do?" And in the back of my mind I thought "well I wanna have a nice house and a nice car, my dad's lawyer has a nice house and a nice car so I should be a lawyer". At one point I did my degree in political science, I took business, I finished university and took a year off to get ready for law school to be a lawyer. But at the time I was always drawn back to the tools. I had a condo I was renovating and a house I was working on, and I couldn't wait to finish my day and get home to be on the tools.
I don't know the exact moment it happened, but it was like light bulb went off and said; you should just do what you love doing and pursue a career in the trade. And that was it, I went back to trade school and did my renovation technology and the building code updates and I went and bought a truck and filled it with tools and put my name on the side."
Follow Bryan Baeumler: Website | Twitter | Facebook | Instagram