GIVING AT-RISK YOUTH A CHANCE TO BUILD A BETTER FUTURE
HAMMER HEADS
Where They Started
"Dickies sponsorship has made a profound difference in our program and to our graduates. Not only does this take a significant financial burden off of our participants, but it also contributes to their job-readiness in the eyes of employers, instilling confidence in our Hammer Heads' abilities and in the professionalism associated with our program." James St. John, Director of the Hammer Heads Program.
Hammer Heads was created by the Central Ontario Building Trades (COBT) in 2009 to support at-risk youth. The Hammer Heads Program is a skill and employment-based training program within the construction industry offering apprenticeship career opportunities to the youth of under-resourced neighbourhoods in our communities.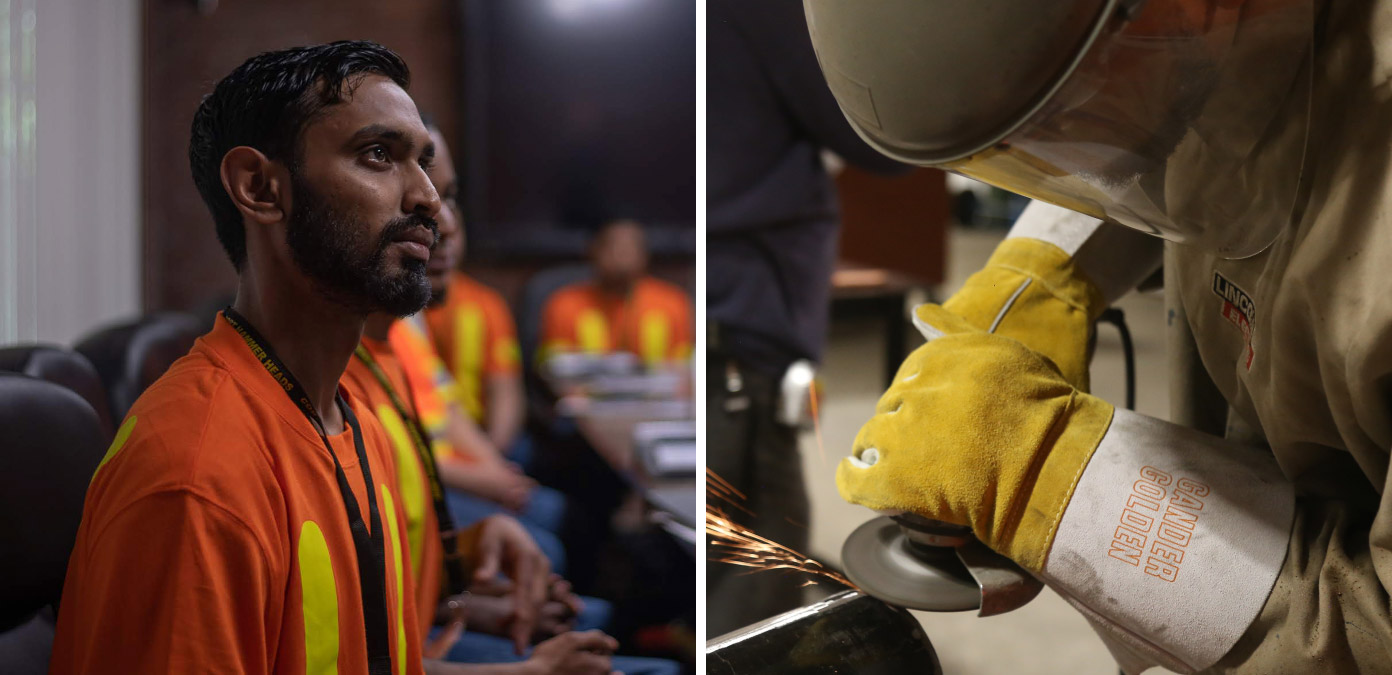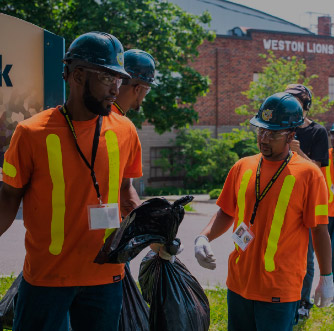 What They Do
Located in Toronto Ontario, Hammer Heads was created by the Central Ontario Building Trades (COBT) to support at-risk youth aged 18 – 26 from under-resourced and Aboriginal communities to develop the skills they need to gain meaningful employment as a registered apprentice in the skilled construction trades. Incorporating intense Health & Safety training, mandatory academic upgrading, Green training and life skills, the 12 week "hands-on bootcamp" style program exposes youth to a variety of construction trades, ensuring they have the necessary social and professional skills to successfully obtain a rewarding full-time career in construction with a fair wage, benefits and pension.
"The program definitely changes everybody's life, if they're committed to it because it gives you a sense of responsibility, it gives you a sense of being an adult, because you know they take us off the street, unfortunately, where our living situation wasn't the best, and where everybody else has fortunate situations. The group that you see here? We had it tough. And we still have it tough. Me being a female, wanting to do construction, it's a joke to a lot of people. So, when they see us out here and putting the effort and making us change our lives. Little by little, everything that they're implying with us, we see it gradually, and it's incredible. Like waking up early, cleaning after yourself, being a team leader, communication. It's everything that you'll use in your everyday lives, which is why we're gonna be succeeding after this program. After twelve weeks we're going to be adults, we're not going to be kids."
-Ashley Pereira
Why They Do It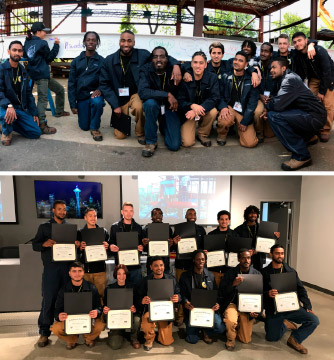 I don't really dislike anything about the program 'cause they better you, right? They take you from one point and they bring you the point that you really need to be to actually get into the work industry. So, I love that about it. And for me, it's just, I love the fact that that they're changing me so I'm a better person to show to my son when he grows up. Yeah. -Samson Baptiste
Since the first class graduated in 2010, the program has produced 488 apprentices and several have completed their apprenticeship, making them full-fledged journeypersons. Our primary objective is job retention, getting a job is a start but maintaining full-time employment is a career. Our unique post graduation support focuses on triangular interaction between the program's Field Representative, the graduate and their employer as we monitor our graduates throughout their first year of apprenticeship by accompanying them to work on their first day, then following up at the end of the first day, first week, second week, third week and monthly thereafter.
"Before coming in this program, I didn't know how to talk to people. Like, I knew how to talk to people, but I was just shy. I didn't really socialize with people. This program taught me and brought me out of my shell to socialize with people, and even taught me how to smile more. I used to never smile. I would just have a straight face all the time. Now I smile. That was normal to me, my mom's always asking, "Why you smiling for?" And I told her, I told her it's the program. She said, "That's really good Ricardo."
-Ricardo Beckford
"So, Hammer Head's been keeping me busy full time. When I'm not in the program I'm at home focusing on schoolwork, right? To improve my knowledge further in trades math because mathematics is very important in terms of skilled trades. So, it's really helping me keep out of trouble, keep my mind busy, right? So, I'm staying out of trouble. My parents at home are noticing a difference, they're really proud of me. It's amazing, to say the least, really. I love it.."
-Mathew Naula Uribe
Follow Hammer Heads on Instagram Here: Instagram
Follow Hammer Heads On Facebook Here: Facebook
Hammer Heads Website: Website