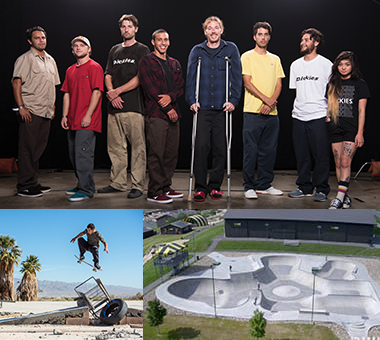 Dickies Teams up with Camp Woodward Skate and BMX Youth Experience Camps
Dickies SKATE took a road trip this summer to Camp Woodward (Woodward, Penn.) and Woodward West (Tehachapi, Calif.) to support kids and teens with the latest tools and inspiration they need to achieve new heights in their sport progression – and they were genuinely stoked to do it.
We're also rolling out a new digital video series partnering with WoodwardTV. The "Build Woodward" series follows what the build crew gets up to in Mexico as they lay the foundation on the latest Camp Woodward park experience.
Keep checking this page often for new videos in the series, exclusive behind-the-scenes photos and videos featuring the Dickies SKATE team, their fresh tricks, cool graffiti artists at work and more.
Episode Seven: Dickies Team
Episode Five: The Cage 2.0
Episode Four: The Art of Chase
Episode Three: The Pump Track
Episode Two: Animal Chin Street
Episode One: Introducing Woodward Riviera Maya