Dickies Shifts Production to Manufacture Medical Gowns
Dickies, in partnership with its parent company, VF Corporation, have committed to further supporting the fight against COVID-19 in the US by manufacturing FDA-compliant isolation gowns for hospitals and healthcare workers. These high-demand personal protective equipment (PPE) garments will be distributed to communities throughout the US in cooperation with state government leaders.
At Dickies, we have been committed to championing the dignity of work for nearly a century. We're not new to shifting production gears to help the greater good. Dating back to World War II, Dickies was sequestered to produce millions of uniforms for the U.S. Armed Forces, and now, in order to help healthcare workers on the front lines of COVID-19, Dickies is leveraging VF Corporation's nimble supply chain footprint by converting five manufacturing facilities to produce urgently needed PPE garments.
Initial production is underway and is expected to produce and deliver 50,000 gowns by May, with the capacity to make more than 3,400,000 gowns through September.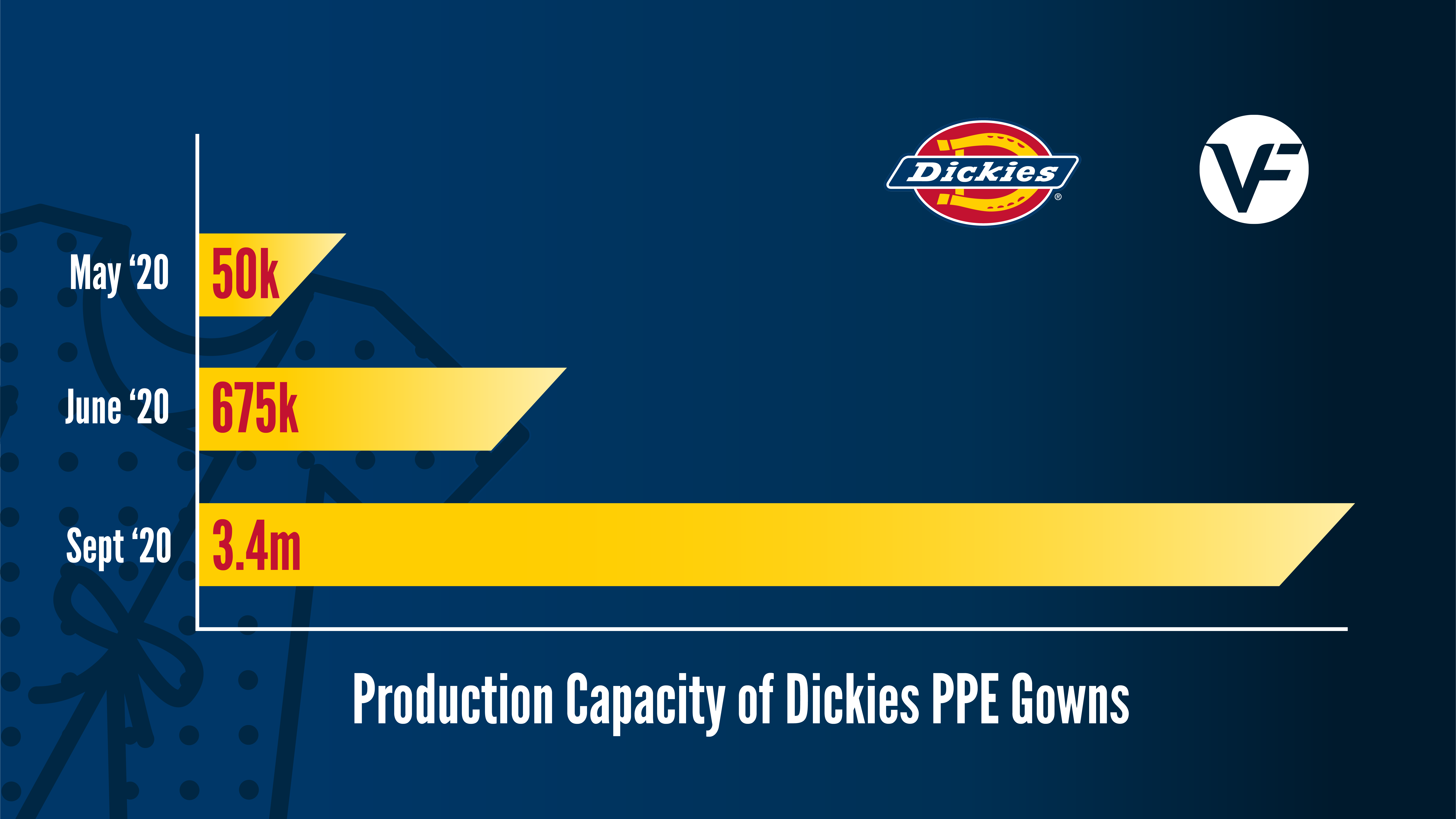 FAQs
Will my Dickies.ca order be delayed?

While there may be delays, we are still operating Dickies.ca and shipping orders from our warehouse as long as we can keep our workers and suppliers safe.

What consideration are you giving to the health, safety and continued well-being of staff in your broader supply chain?

The health and safety of our workers worldwide, as well as those workers in our extended supply chain, are our top priority. We are continuing to monitor

COVID-19

as it is evolving at unprecedented speed globally, and are taking every precaution within the supply chain we can.

How are you ensuring customer safety while you continue to keep your warehouse and ecommerce online?

Here is what we know from Public Health Agency of Canada (PHAC): Products shipped within or from outside Canada could be contaminated. However, because parcels generally take days or weeks to be delivered, and are shipped at room temperature, the risk of spread is low. There is no known risk of coronaviruses entering Canada on parcels or packages.